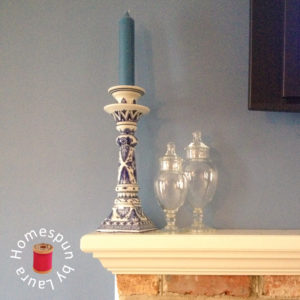 It's a habit of mine to conceptualize and complete a project long before it ever makes an 
appearance on the blog.  I complete one project and before I know it, I'm already so wrapped up in the next one that I can't stop myself long enough to go back and write about the previous one – and then don't wind up writing about the second one in a timely manner, either.  

So with this project, I'm trying to do better.  I'm sharing the plan before I even start on it to help keep myself accountable.  The idea is that I'll actually write about different parts of the project as I go so it's not all waiting for me as one giant, overwhelming post at the end.
Our den has been a puzzle to me ever since we moved in six years ago.  In the photo below, it looks smaller than it really is; it basically takes up half of the main level, running from the front to the back of our house.  Figuring out the best furniture arrangement has been a challenge for me; it's never felt quite right, but with each change, we've gotten a little bit closer to the ideal setup.  
If I could go back and do it again, we would have gotten new carpet before we moved in!
We started out by furnishing it with a couch (bought new a year before we moved in), a chair and ottoman (bought at a consignment store with the intention of someday reupholstering or slipcovering), and a couple of end tables and storage ottoman from Bed, Bath, and Beyond.  After about a year, we found a giant bar at the consignment store and put it in one corner of the room.  It helped to fill up the room and is the spot where everyone congregates when we have a large group of people over.  Best of all, it stores all of the wine, margarita, and beer glasses that just don't fit in the kitchen, our box of supplies for tailgating in the fall, and is the perfect place to toss random stuff when the house is messy and a visitor's arrival is imminent.
Best of all, it's where the Christmas village lives from two days after 
Thanksgiving through March 1st-ish 
(because it's just too pretty to put it away after only one month!).
I said earlier that I'm writing about this project before I even begin; on some level, that's not true as one could argue that we began this endeavor about four years ago when we painted.  I hated the original wall color – it was a goldy-mustardy tan and it felt really dark to me.  Plus, before they moved out, the previous owners had painted (but not spackled) over the holes from their photo frames – but the paint colors didn't quite match.  I pointed this out to their realtor at our final walk-through before closing, and she very rudely told me that it was the same paint, like I was an idiot for thinking otherwise.  It may have been the same paint, but it was NOT the same color (though it was very nice of the previous owners to try…).  After living with mismatched spots and holes on the walls for about a year and a half, we finally set a weekend to paint!  We picked our paint out at Lowe's – and made it through the weekend (and our first home improvement project together) without any arguments!

Valspar Faint Maple
Valspar Montpelier Wedgewood
The new colors looked great and made the room feel much brighter – something about the gold was just so dark, and this room doesn't get much natural light during the day, which makes it feel even darker.  We created an accent wall by painting one wall with the Montpelier Wedgewood and putting the Faint Maple on the remaining three walls.  We like it so much that it has wound up in several other rooms in our house over the years.

This is a TERRIBLE photo taken at night, right after we finished painting and 
got things back in their rightful places, taken with the phone I had
at the time, which obviously wasn't made for taking blog photos.
I was so excited the day I bought the fabric I used to make the curtains for the front two windows (I never got around to making them for the back windows, though). I made a couple of matching pillow covers and tossed them onto the couch, and that was that.  The den was finally done.  

The fact that I had the curtains blocking most of the windows didn't help
our already challenging lighting situation.  I figured it out and
moved them to the outsides of their windows after a couple of years.
Except it was all wrong and didn't really feel comfortable or homey.  I loved the striped fabric I had settled on for the curtains and thought it looked great at first, but about a year after I (finally!) made the curtains (the fabric sat in my sewing room for about a year and a half before I finally got around to it), I realized that they were all wrong.  First of all, they're made from an upholstery fabric!  It's super heavy and blocks a lot of light – which in some rooms may not be all bad, but our house has a lot of trees in the yard and faces in a direction that limits the amount of natural light that comes in, so we need to let in all we can.  

There also wasn't much seating, so if we had more than one or two other people over at a time, people just wound up standing around – or all squeezing onto the couch together like sardines.  It kind of felt like a college student or recent graduate's apartment, which I guess it almost was since we were so young when we bought the house, and I've been pondering more permanent decor options for it for a while.  I finally have the plan – and even better, I made my first ever 'mood board' to share it!

Den Redesign Mood Board
I was so excited when the 22 yards of fabric I ordered from fabric.com arrived earlier this week and have been running around to the three Lowes stores that are within 5 miles of my house to gather the supplies I need to make curtain rods similar to these (for more info and a tutorial to add to the many that are already out there, click here).  I was finally able to start on them on yesterday and plan to have both the rods and the curtains on the wall, along with several new pillows on the couch (the ones that came with it just won't do!), by the end of the week!
Rocky inspected the 41 lbs. (you read that right! FORTY-ONE POUNDS!) of fabric when it arrived.

Thanks for sticking with me on this (long, drawn out, detailed) post (or for just looking at the pictures), and stay tuned for (more regular, timely) updates on the Den Redesign project in the weeks to come!
Laura

P.S.  Bonus points for you if you noticed the new stamp I made for my photos!