It's Week 6 of the One Room Challenge, which means there are loads of awesome rooms on the internet for you to feast your eyes on!  But if you came here looking for an awesome laundry room reveal, you're

about a week

 few months early.  
It was highly unlikely that I would finish this room in the five-week span of the One Room Challenge.  Since I knew I would be out of town for three of those five weeks, maybe I shouldn't have joined the challenge…but I knew I wouldn't even start the project if I didn't jump in to the ORC, so here we are!
Reminder:  This is what it looked like in Week 1!
If you thought I didn't get much done last week, then the lack of items that got checked off the to-do list this week will blow your mind.
We were in New York for most of Week 6 of the One Room Challenge for a little race in the big city.  Perhaps you've heard of it: the New York Marathon.  Over 51,000 people ran the race this year, and I was one of them!  It's the second marathon that my brother and I have run together.  The rest of the family came to cheer us on (including the other brother, who is smarter than we are and sticks to distances of 13.1 and shorter), and it was SO MUCH FUN.  It did hurt a little, though.  Running a long race that leaves you drained of energy, sore, and starving for several days after its completion doesn't leave much time for getting things done, so for now this reveal post is a work in progress.
Here's what's happened so far in Week 6:
We flew to New York, and I spent a couple of days as a solo tourist while the Mister worked at the marathon expo (fun coincidence!).  
I started out in the Garment District, where I found an awesome shop devoted entirely to notions.  I ran in Central Park and Riverside Park, ate at Shake Shack in Madison Square Park, and went to Trader Joe's in the Upper West Side at dinnertime (bad timing!).
I might have stared at all the pretty zippers for a little too long.
I've never seen so much Velcro in so many colors.
I ran the last 3.5 miles of the marathon course, then hung out in Central Park until I got cold and my phone died.
A little birdie joined me for breakfast at Le Pain Quotidien in Central Park after my run while I tried not to listen to a nearby table full of 'real housewives' of the Upper East Side.
A rare selfie on my first solo subway ride.
Then 66.7% of the rest of the family came in, and our focus shifted to the marathon. 
Our cheering squad.
Sunday arrived and we ran the marathon.  
We found each other in the middle of the race!
Happy to see the family in Brooklyn near Mile 5!
Runner's high is a real thing.
Monday was our final day in the city, and the Mister and I got to see the Tonight Show taping, which was awesome.  
I was so excited when I found out we had tickets to the show the day after the marathon!  Unfortunately, it was also the day before the election.
Jumping this high the day after running 26.2 miles is really hard.
Celebratory drinks at the Rainbow Room.
Here's a money-saving travel tip: Don't pay $30 per person to go to Top of the Rock; go to the bar one floor below it (which is free) and buy an overpriced drink.  You'll still come out on top (get it!?): you spend less, enjoy a drink, and you get the same view!
On Tuesday, I got home from New York, dropped everything in the laundry room, and spent the rest of the afternoon parked on the couch watching TV until I went to bed when the clock still had an 8 in the hour position.  I spent Wednesday unpacking and catching up on mail and laundry….Wait, you wanted to know what happened in the laundry room, though, didn't you?
Friday and Saturday were my two full days for making progress in the One Room Challenge this week.  On Friday, I finalized the design and bought the supplies for the DIY laundry rack, which MIGHT have included going to three different home improvement stores in one day.  On Saturday, I went to the home improvement store twice more, then laid everything out and sanded it all.
Finally getting some work done.
Then the Mister helped me with assembly so I could fit in my first post-marathon run.  
Then we got lost in a corn maze for a couple hours.
I'm now in the midst of painting, but it's nowhere near being ready to hang up.  It's in multiple pieces in the garage, preventing us from parking there for now.  
It's cold and wet.  Not a great day for working outside!
Confession:  we almost ran over it last night when we got home.  Rather, we did run over part of it and if we had gone even an inch further into the garage…it would have broken, I probably would never have remade it, and we'd be looking at the fuse box for the rest of our days in our house with nowhere to hang wet clothes.
Crisis averted.
We've made some progress on The DIY Project That Won't End, also known as the DIY laundry rack/fuse box cover.  It would have been a very easy, straightforward project if it weren't for my insistence that it both cover the fuse box and also open like a cabinet to make the fuse box accessible when necessary.  But it's on the wall now, and the main remaining step is to touch up some paint, but there are some small problems to be solved before it's completely functional.
It's coming together!
Just a few finishing touches required first, though.
The next major item for this week was to hang some art.  But…it's been over 2 weeks and the tube containing the large Monet print I mailed myself from the Orly airport in Paris still hasn't arrived.  I didn't measure it before we stuffed it in the tube and paid too many Euros to mail it, so I can't exactly go get a frame for it yet…

***Update:  Monet has arrived!  It took him 3 weeks to make his transatlantic voyage, but he's here and currently being held up with painters tape!
Rocky investigated the new arrival
I'm really excited about my fancy frame made of painter's tape.
I'll look for a slightly more decorative one after Thanksgiving!
I did get a small print, about 6×8, that came home with me that I attached to the wall using painter's tape for the time being.  I'd like to find coordinating frames for both pieces, and since I must wait to find out what size my large print is to get a frame for it (if it ever arrives!), I won't waste any time looking for a frame for the small print yet.
Something's missing.
As for a new light fixture…I'll just ask for one for my birthday.  That way, I don't have to worry about it yet.  🙂
Nothing new here!
If you're still here, thanks for sticking with this post!  You can also catch up on the rest of my Laundry/Mud Room Makeover!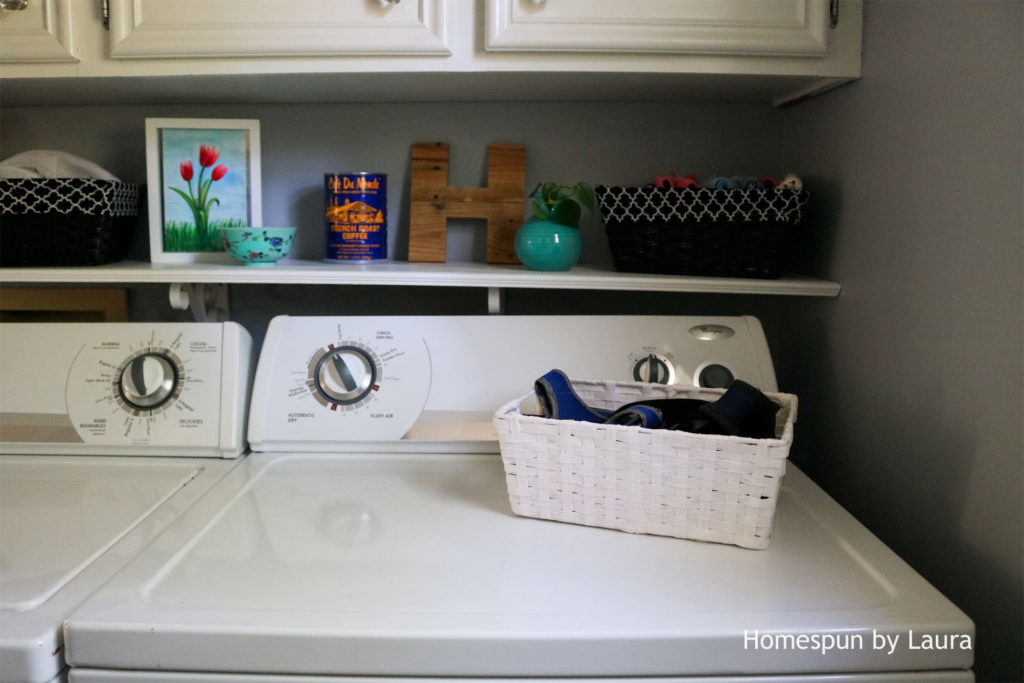 For some REAL room reveals, take a look at the rest of the participants' One Room Challenge transformations. 
Click the images below to read future posts about this project!