In Week 2 of the One Room Challenge, I made a tiny bit of forward progress.  This week was a tough one for getting much of anything accomplished. Little Miss had some congestion and was fussy. As a result, I spent a lot of time just hanging out and holding her instead of putting her in her swing or bouncy seat so I could do things. I kept reminding myself that she won't be tiny forever and has no idea what her room looks like – she doesn't even sleep in it yet – so whether I get photos framed or curtains hung or decide on a paint color on a certain day doesn't truly matter.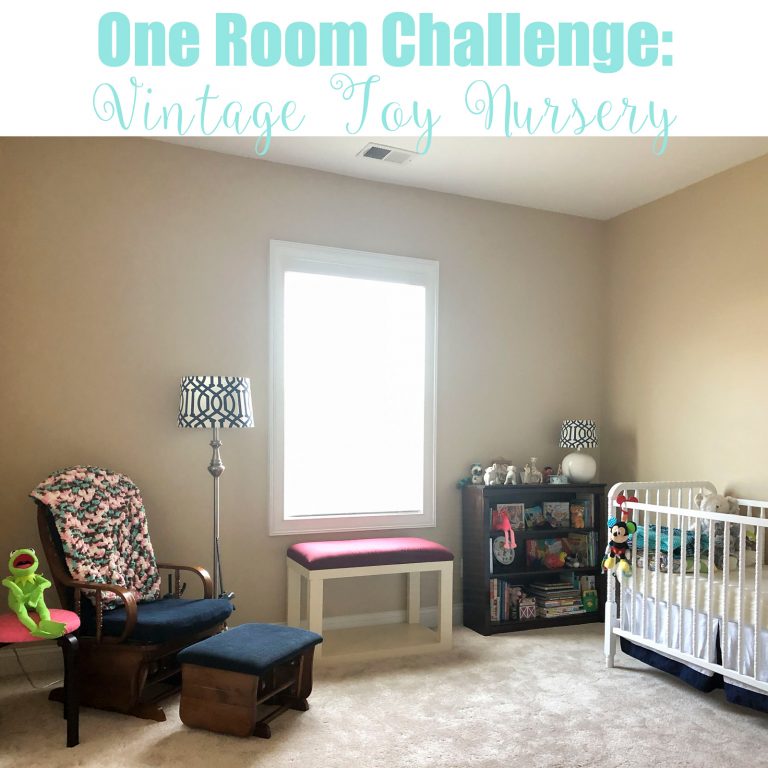 To quickly recap Week 1, I shared that I am creating a gender neutral vintage toy themed nursery for our six-week old daughter and any subsequent children.  We moved two and a half months before she arrived, so our main focus for her bedroom (and the rest of the house!) was to create a functional space without worrying much about how it looked.  Now that she's here, I'm taking it from functional to fun!
Gather
The main goal I set for myself this week was to gather items that I plan to use in Little Miss's bedroom from around the house.  Gathering various bulletin boards and curtain rods from within my own house seems like a pretty lousy goal, but so many boxes remain unpacked and things are a little hard to find.  We stashed so many things  in closets or in the garage to get them out of the way, but I found nearly everything I set out to find! It felt like a pretty big accomplishment.  Only a few items have eluded me so far and will require further searching.
order Photos
Another goal I set was to order photos of her first month.  I won't use them all in her room, but I want to start out on a good foot keeping up with photos of her life.  I'm so far behind on the photos of our first 10 years of marriage that it seems overwhelming to even start on them – and I plan to do a better job for her!
When I placed that order, I also selected a 5×7 to put in the pretty silver frame that has remained empty since I received as a gift for helping to host a wedding shower four or five years ago.
Clear out the Closet Clutter
That said, I did make a little bit of progress.  A good friend and my sister-in-law lent their daughters' outgrown baby clothes to us, but I hadn't had time to look at anything beyond the Newborn sizes.  It was like Christmas morning looking through those bins! I organized the 0-3 month items in her dresser and closet, leaving the larger sizes stowed away to discover when the time comes.  I further cleared out the closet by moving most of the huge stash of diapers into a dresser drawer for easier access.  Several large items we don't need to use regularly fit under the crib, creating even more floor space in the closet.
While the closet is fairly large, the space is underutilized.  I also strongly dislike wire shelving and would like to replace it with wood.  One afternoon while sitting on the couch holding my girl, I used my free hand to sketch out how I would like to reconfigure the shelving.  In my former life, I would have been able to knock this project out in a day or two, but our current situation will make it take a bit longer unless I'm able to bring in some reinforcements.  I have low expectations for completing this project during the 6-week time frame of the One Room Challenge.  Just organizing the space will probably have to do for now!
Goals for Next Week
The word to sum up Week 3's goals is 'Make'.  Among the tasks: make DIY photo ledges (if I can get to Lowe's to buy the wood!), arrange and hang the hair bow wall in her closet, add pink or navy ribbon to a plain white lampshade, and make the DIY toy lamp (the toys are among the items I haven't found yet, so this might not happen!).
Here's to getting a little more done in Week 3… In the meantime, take a look at the other great One Room Challenge projects!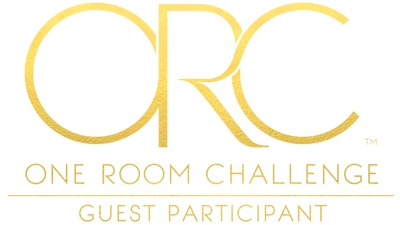 Pretty much everything remains on the to-do list:
Paint and reupholster (or slipcover) glider – purchased for $15 at a neighbor's yard sale years ago
Paint and re-cover window bench; add pretty bins to store toys, books, etc.
Hang art and photos, including art/pages from old children's books I intend to get to a thrift store to purchase…
Create an oversized piece of art to hang over crib
Buy or DIY a ladder to hang blankets
Buy or DIY picture ledges
Find a pretty keepsake box to store special papers, hospital bracelets, etc.
Possibly add a rug to the center of the room
Replace light fixture with either a ceiling fan or prettier fixture
Select paint color; paint wall (keep eyes open for rebate at Lowe's – often offered around holidays like Columbus or Veterans' Day)
Create rubber ducky themed bathroom featuring souvenir rubber duckies and décor items left over from my college bathroom
Use blank wall in closet to create hairbow storage/display
Better organize the large but cluttered closet
Use DIY Medal Display Shelf from old house as a curtain rod to hang old curtains from master bedroom at our old house
Various other small DIY projects, including

creating a vintage toy lamp,
adding ribbon trim to lampshade,
lengthening curtains (ceilings here are higher than at our old house),
sewing a changing pad cover

Paint room