To quickly recap the project, I'm participating in the One Room Challenge and creating a gender neutral vintage toy themed nursery (with a few easily reversed girly touches) for our seven-week old daughter and any subsequent children.  We moved into our house less than three months before she arrived, so our main focus for her bedroom (and the rest of the house!) was to create a functional space without worrying much about how it looked.  Now that she's here, I'm taking it from functional to fun!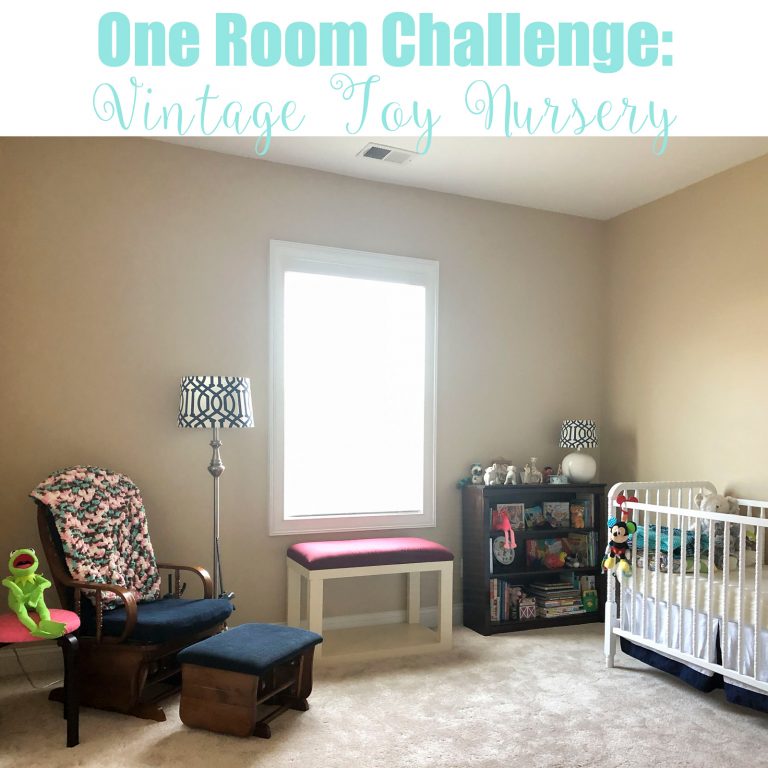 One Room Challenge Week 4 goals
Week 4 of the One Room Challenge saw some progress!  Continuing to wear the baby has been helpful for both of us: she naps better, and I don't feel guilty getting stuff done.  Plus, I have a pretty cute view every time I look down!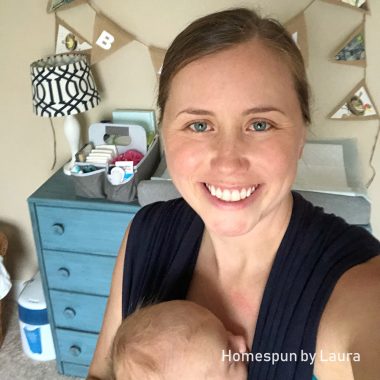 The to-do list for the week was reasonable and included:
Add pink or navy ribbon trim to a plain white lampshade
Hang DIY Medal Display Shelf as curtain rod
Make/hang book art and photos
Order light fixture
Of course, with a seven-week old baby as my primary focus, nothing quite got 100% completed, but all the items are in progress…
Add pink or navy ribbon trim to a plain white lampshade
Nope:  I intended to finish this project in Week 3, and then again this week, but no dice.  I made it out to buy the adhesive today, so perhaps in Week 5!
Hang DIY Medal Display Shelf as curtain rod
Calling an audible:  The windows in our new house are very wide, so this option doesn't work.  I decided to still use the shelf, but on the other side of the room above the dresser/changing table instead.  For the window, I'll use one of the DIY curtain rods from our old den, which are easily adjustable to accommodate wider windows.
Make/hang book art and photos
In progress:  I struck out at the first thrift store I visited, but I got a home run (see what I did there?!) at the second one.  For 12 bucks, I got a box full of awesome old books – some in better condition than others, which works well for my purposes – and four old kids' Christmas records, which will be so much fun to start playing in about a month.
Interesting timing for this find as Mickey turns 90 this year!  I couldn't find a year on the record, but I'm guessing late 1950s based on the art and presence of the Mickey Mouse Club logo; it originally aired around that time period.
Order light fixture
In progress:  Not only did I order the fixture, I received it!  It hasn't made it out of the box yet, but it will…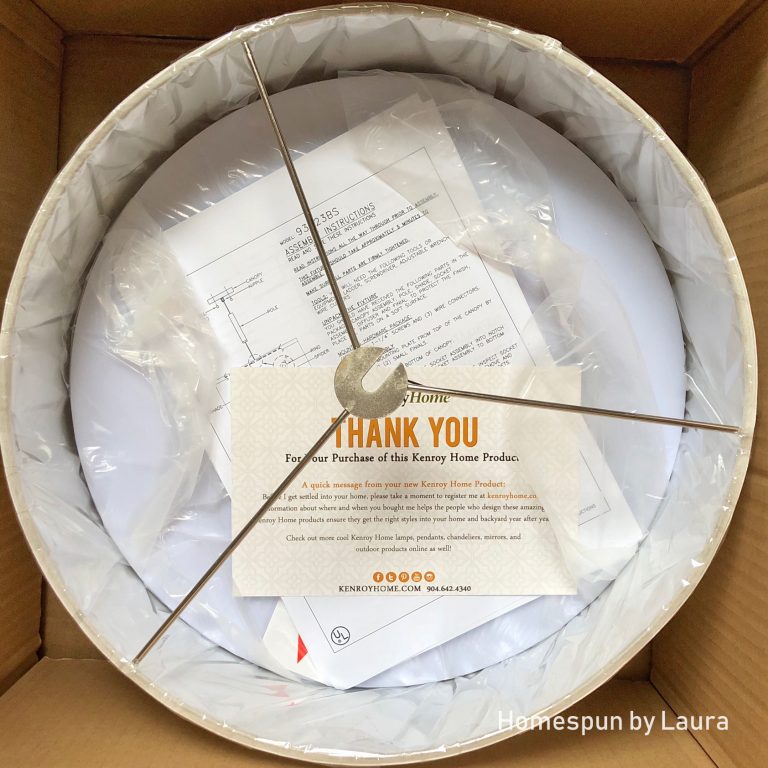 Goals for Next Week
In Week 5, I hope to:
Organize the bathroom cabinet and determine a better way to display our souvenir rubber duckies
Organize book shelves, including shelf over dresser
Hang curtain rod and lengthen curtains
Frame photos and book art
Find and fill a pretty box for baby girl's keepsakes – hospital bracelets, baby shower cards, first outgrown outfit, etc.
Find bins to use in window bench
Install light fixture
Finally add ribbon trim to lampshade!
Some of these items will be more challenging than others.  For example, the curtain rods currently reside on the other side of the Sea of Unpacked Boxes behind the couch in our den, and the hardware is hiding in a bedroom closet.
While I play another game of hide and seek, you can take a look at the other great One Room Challenge projects!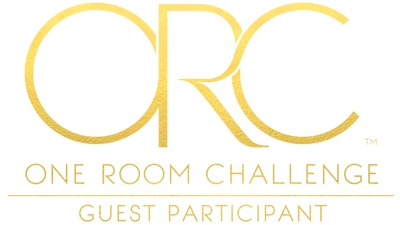 Vintage Toy Gender-Neutral Nursery
Items in bold are complete or in progress; items in italics are goals for the coming week:
Paint and reupholster (or slipcover) glider – purchased for $15 at a neighbor's yard sale years ago
Paint and re-cover window bench; add pretty bins to store toys, books, blankets, etc.
Hang art and photos, including art/pages from old children's books I intend to get to a thrift store to purchase…
Create an oversized piece of art to hang over crib
Buy or DIY a ladder to hang blankets
Buy or DIY picture ledges Use DIY Medal Display Shelf from old house to display toys, photos, and art
Find a pretty keepsake box to store special papers, hospital bracelets, etc.
Possibly add a rug to the center of the room
Replace light fixture with either a ceiling fan or prettier fixture
Select paint color; paint wall (keep eyes open for rebate at Lowe's – often offered around holidays like Columbus or Veterans' Day)
Create rubber ducky themed bathroom featuring souvenir rubber duckies and décor items left over from my college bathroom
Use blank wall in closet to create hairbow storage/display
Better organize the large but cluttered closet
Use DIY Medal Display Shelf as a curtain rod to hang old curtains from master bedroom at our old house to create display area over dresser/changing table (see above)
Various other small DIY projects, including

create a vintage toy lamp,
add ribbon trim to lampshade,
lengthen curtains (ceilings here are higher than at our old house),
sew a changing pad cover