Throughout the month of September, i'm tackling my to-do list.  I'll check off 30 items that have been on the to-do list for way too long.  From boring things like paint touch-ups and fixing broken drawers to bigger, more exciting  projects like finishing up our bedroom and a $200 master bathroom refresh, I am getting stuff done in September!
Stacy from the Blake Hill House blog is hosting the #30projectsin30days challenge to encourage others to wrap up all those lingering pesky little projects once and for all.  I discovered Stacy's blog during the One Room Challenge this spring and enjoyed following along on the renovation of the library in her 1800s house (plus, she's a marathoner like me!!).  In such an old house, there is lots of work to be done, and it's fun to watch!  But as you can imagine, these to-do items can add up, so Stacy created the #30projectsin30days challenge to wrap up some of her lingering projects and encourage others to do the same.  I decided this was the motivation I needed to wrap up a few of my own to-do list items, so here we are!
Week 1 was for accomplishing several piddly little no-fun things that have been driving me crazy – but not crazy enough to motivate me take a few minutes to do anything about them.  I focused on organizing the kitchen drawers and cleaning up some unsightly areas on the walls and trim, plus a random item that just needed to be done.
to-do List item 1: Reorganize the kitchen drawers
These drawers have been driving me nuts lately.  I also had two crocks on the counter with utensils in them, and I wanted to clear one of them out.
The Mister was out of town for work at the beginning of September, so one night after dinner instead of chilling on the couch with the dogs and Netflix, I tackled the drawers.  I pulled them all out (except for the silverware drawer because it didn't need attention) and put them on the table and chairs where I could see them.  Once I could see everything,  I started grouping utensils together with like items.  Most items stayed roughly where they were, but a few things went to live in new locations.  A few others are going to Goodwill to find a new home.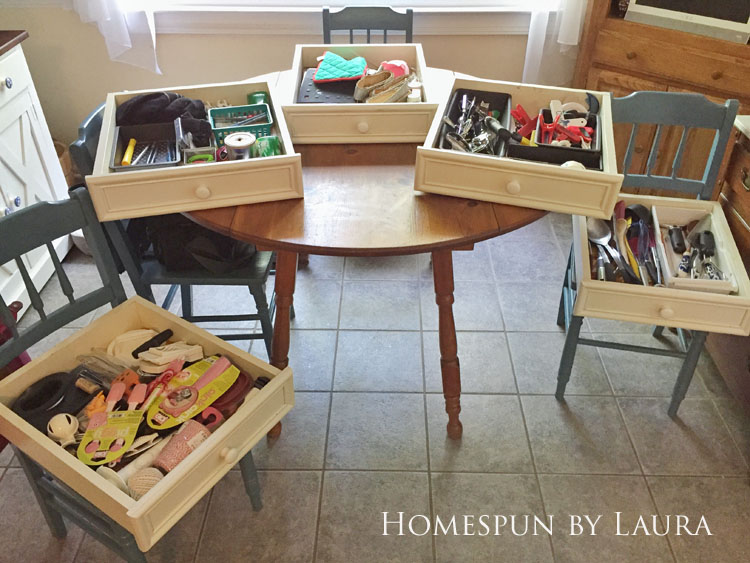 I put all the utensils I use most for food prep in the drawer next to the sink where they're easily accessible.  The can opener, poultry shears, and .  A few pens (for the nearby grocery list), permanent markers (for writing open dates on some food items), scissors, and tape also live in this drawer for easy access.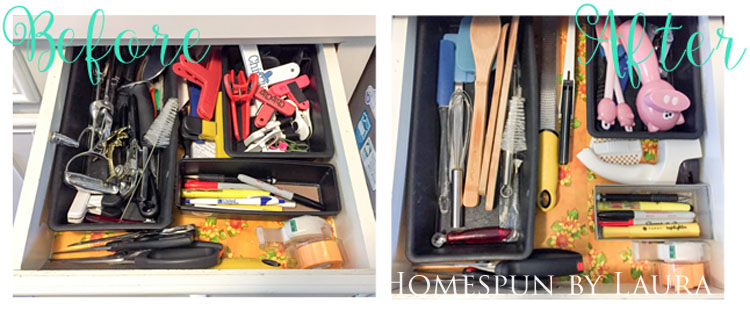 Cooking utensils I use at the stove went in a drawer next to the stove, along with serving utensils.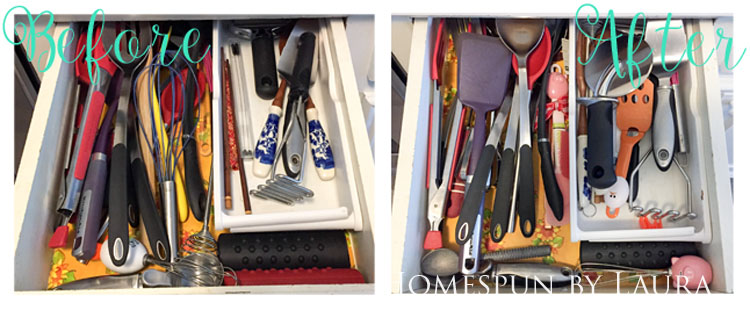 Trivets of all kinds went back into the drawer where they already lived, along with skewers for grilling and toothpicks for checking the done-ness (or, in the case of brownies…un-done-ness!) of baked goods.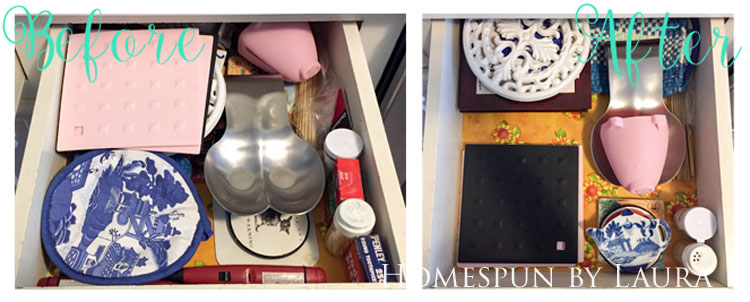 The drawer that sees the light of day the least contains items like the apple corer (mostly used at Thanksgiving and Christmas for apple pie making!), corn cob holders, matches, turkey thermometer, etc.  Stuff I rarely use but do need on occasion, in other words.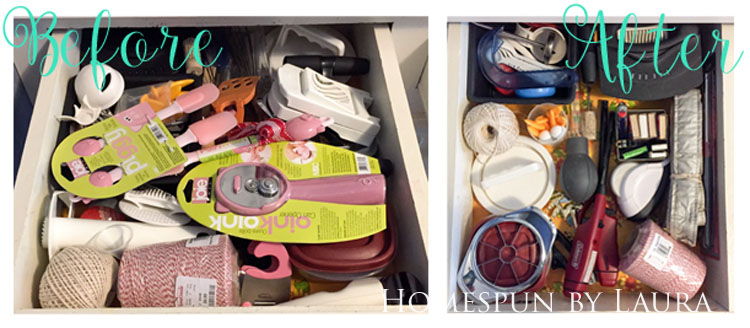 The 'junk' drawer holds spare keys to a variety of buildings, a giant flashlight, plenty of pens (because they disappear), mints, and more.  Chip clips used to live in my food prep utensils drawer, but they were taking up valuable space there and needed to go live somewhere else.

These drawers won't be winning any prizes for being pretty, but that wasn't the point.  The point was ease of access for frequently used items while relegating items that are used less to other locations, and getting rid of unnecessary ones.
to-do List item 2: Fix a broken drawer
I didn't mention the hutch drawers as part of Day 1's focus, but they got some attention, too.  One of these drawers couldn't be pulled out more than halfway without tilting dangerously and threatening to crash to the floor if pulled out another inch.  So I emptied it out and turned it upside down to discover that the slide on the bottom of the drawer was somehow NOT ATTACHED to it at all!  It was made of plastic that had cracked at both ends, and I somehow missed this when I painted the hutch a few years ago.
All it took was a small screw on each end to reattach the slide to the bottom of the drawer, and now it works like a charm!  Less than five minutes – including hunting down short enough screws – and this incredibly annoying drawer is a problem no more!
to-do List item 3: fix  a broken necklace
Apparently, I talk with my hands.  I also wear long necklaces fairly frequently.  And sometimes a bracelet.  When you combine all of these things, it makes for broken jewelry.  Fortunately, I went through a jewelry-making phase about eight years ago and still have all the tools!  So when jewelry breaks, I can grab my tiny pliers and fix it.  But for whatever reason, this necklace just sat around for weeks.  I kept wanting to wear it, then realizing I couldn't because it was still broken.  Thanks to the #30projectsin30days challenge, I can wear it again!
And, as I mentioned in the Instagram post, a pair of reading glasses is an excellent and necessary crafting tool.  They're a great tool for small projects like embroidery, jewelry making, and sewing – or un-sewing (that is, seam ripping) that are hard to see.  I don't wear glasses and never have, but my craft glasses are easily accessible for these projects.
to-do List item 4: spackle holes in the wall
Moving on to the really boring tasks…  We moved some photos around recently, and they left big, gaping holes in the walls.  Then the holes sat there staring at us for a few weeks.  Twenty minutes, a tub of spackle, and a painter's tool, and they are a problem no more!!
to-do List item 5: paint holes in the wall
The white dots on the wall resulting from Day 4 were an eyesore!  So I sanded them down and grabbed a craft brush to paint these tiny areas with the few tablespoons that remain of this particular batch of paint.  We do have more of this same color, but since it was mixed months later, it's not a perfect match.  Fortunately, those few tablespoons went a long way, and there's still a little bit more!
to-do List item 6: clean the baseboards
If you give a mouse a cookie, it will want a glass of milk.  And if you give a homeowner a tub of spackle, she'll come up with three more items to add to the to-do list!  The sand residue that fell on the baseboards yesterday reminded me that I haven't cleaned the baseboards in ages.  In a few places, the small layer of dust was quite visible.  So I went around the house and cleaned them.  Except for the kitchen.  It's another project for another day, because I should probably wipe down the cabinets and chair railing, too.
to-do List item 7: touch up baseboards and trim
And here we are on Day 7.  I decided that since the baseboards were clean, I should touch them up.  Back in June, we got new carpet! (Yay!)  The installers made a mess of the baseboards in several rooms.  (Boo!)  Fortunately, I painted two and a half of those rooms in July, so those baseboards look great now.  The trim along the staircase that I worked so hard to transform three years ago looked pretty rough.  There were a few other areas that needed some attention, too.  Out came the paint and the craft brush again.  I spent a couple hours walking around the house covering up blemishes on the trim and baseboards.
That's all for this week!
Want to play along?  Create your own list of 30 items and get to work!  Share your progress on social media with the hashtag #30projectsin30days or on your blog.  Don't live online?  Just check the items off your list and enjoy the fruits of your labor more privately!
In Week 2, my focus will be on wrapping up the bedroom redecoration I started earlier this summer!  Follow along on Instagram, or check back here next week to see my progress.  Hop over to Blake Hill House to see what little projects others are checking off the to-do list this week!
Thanks for stopping by!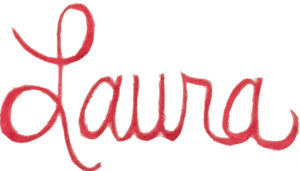 Thank you for your shares, pins, tweets, and likes!