What started as a sad and dated half bathroom is now a calm and pretty powder room – and I did it all for under $76!  
this powder room makeover proves that 
a little bit of paint can go a long way!
Here we are at the end of another One Room Challenge, the six-week long DIY renovation challenge where participants make over a room in their house (or a porch, or maybe even a camper!).  Usually, the before and after photos will capture your attention, and reading about the transformation process is equally captivating.  Read on to find out more about our 'pretty painted powder room'.
A recap of the $75 DIY powder room makeover
Powder Room Makeover Week 1
What I started with in Week 1 was a horrible yellow room out of 1992.  Removing the wallpaper was a long-overdue project I'd put off for years because it scared me.  It took about an hour and a half and was super easy.  Why did I wait so long?!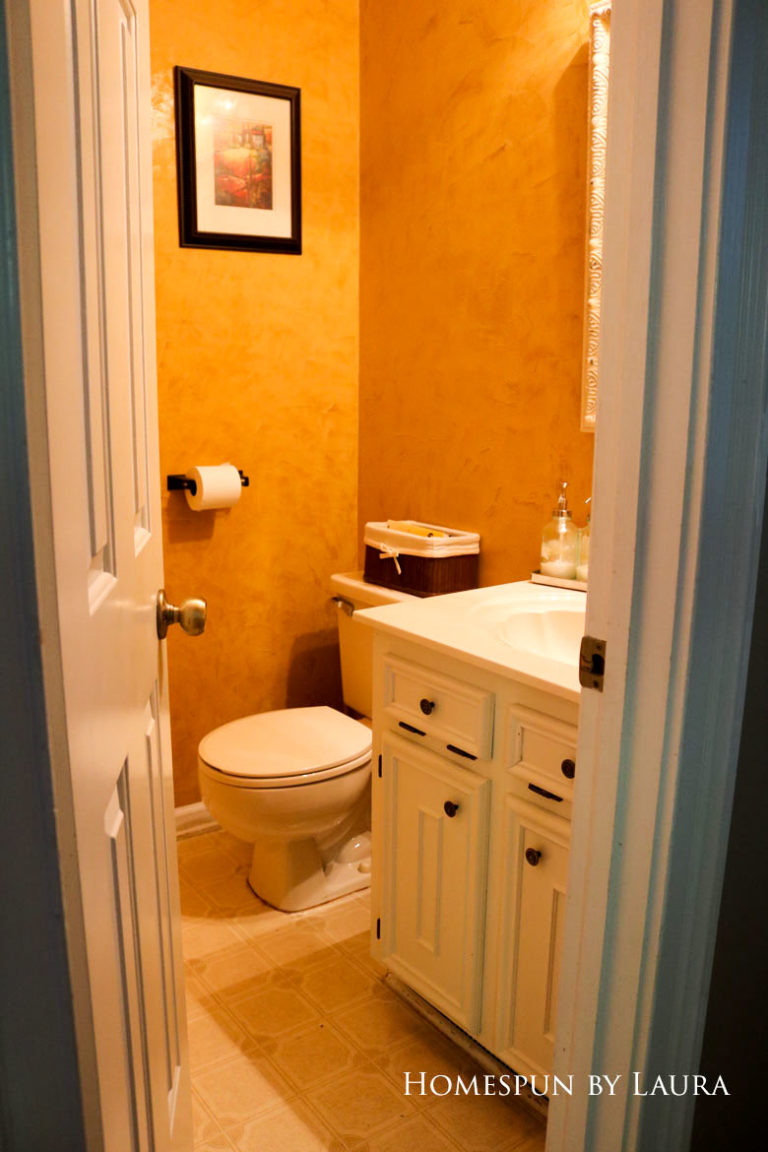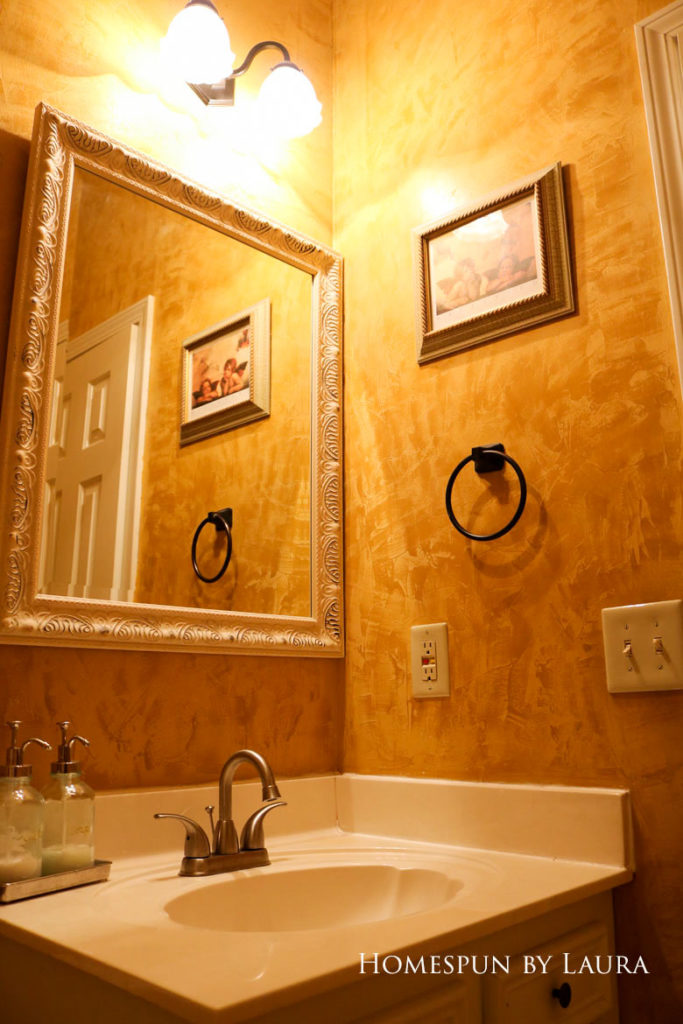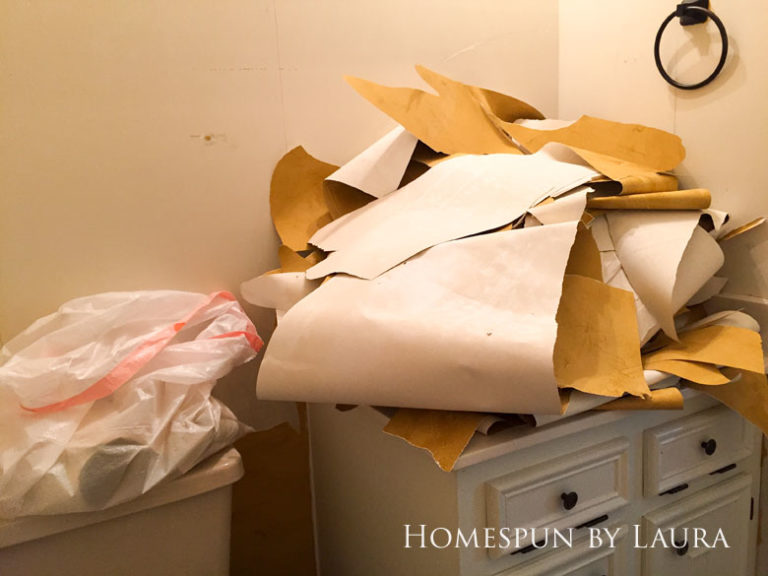 Powder room Makeover Week 2
I began with a blank white canvas this week.  By the end of it, the vanity was a brilliant navy blue and the knobs + hinges looked brand new new thanks to a few coats of brushed nickel spray paint.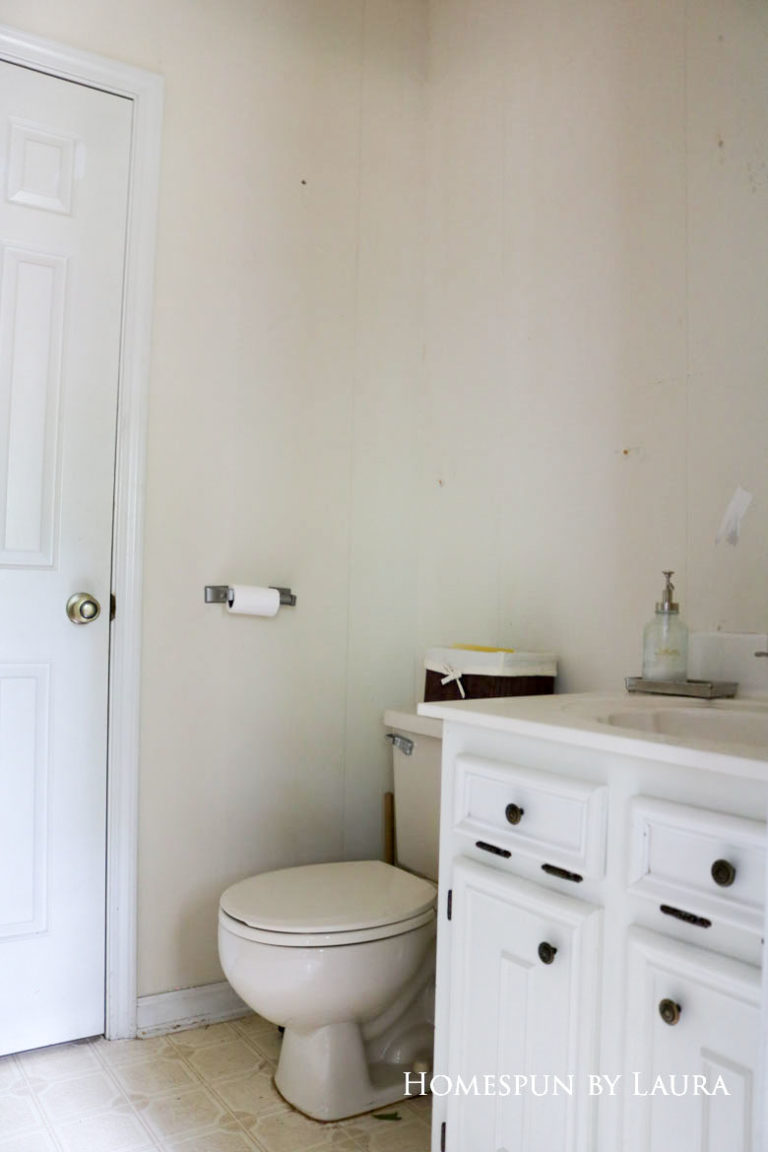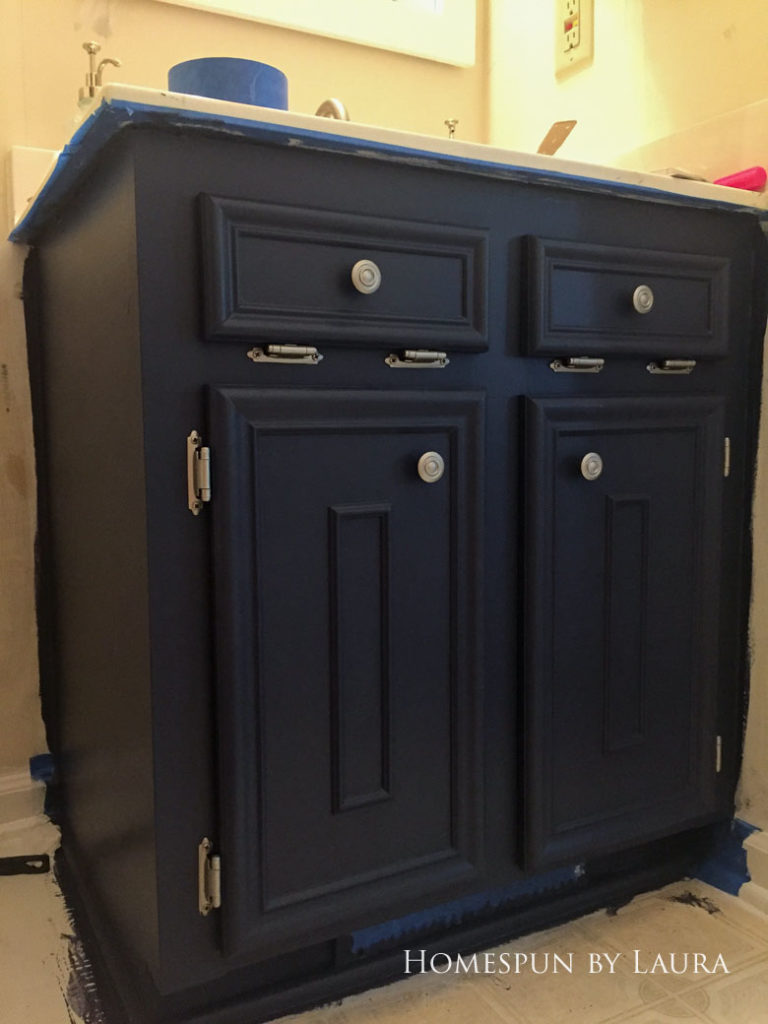 Powder room Makeover week 3
The room started to come back together this week.  I painted the ceiling, walls, doors, doorknobs & hinges, baseboards, and door frames, and it looked like a completely different space when I was finished.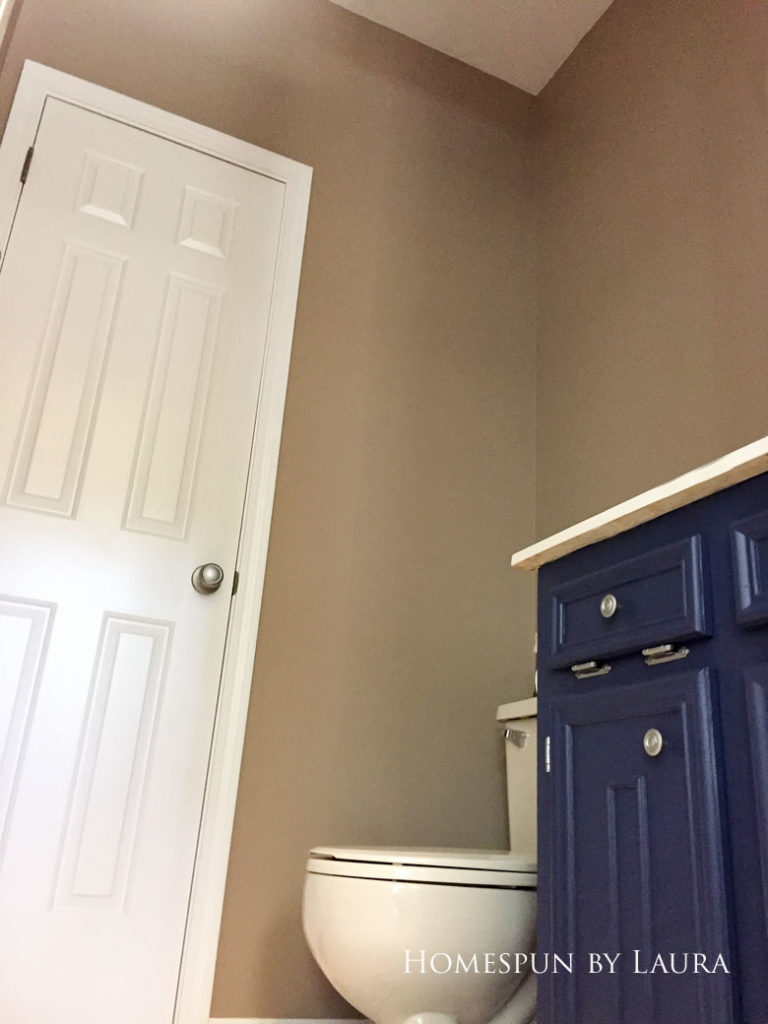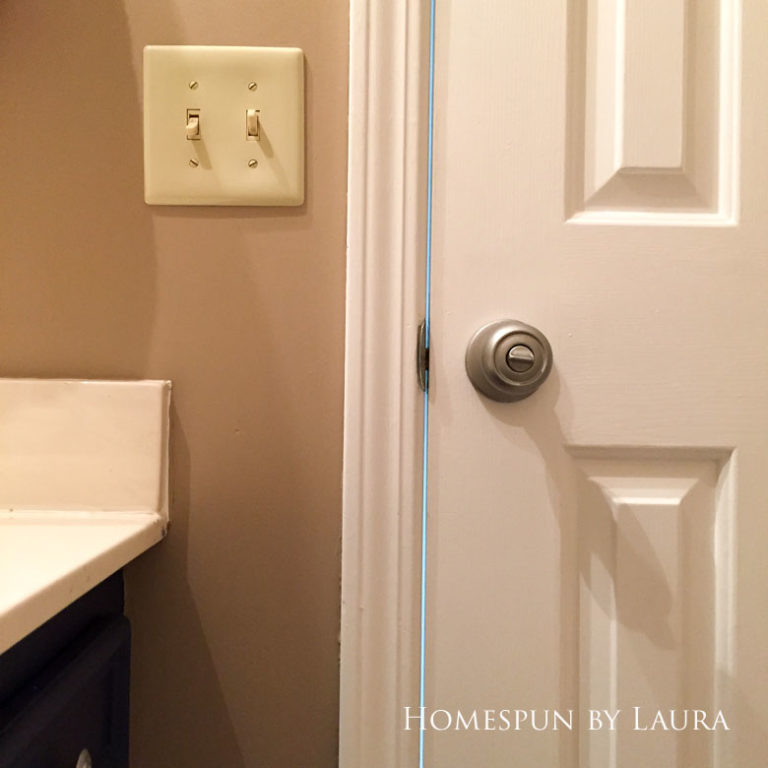 Powder room Makeover Week 4
This was the first week I had to break out my wallet.  I purchased a stencil, porch & floor paint, and new globes for the light fixture, which I also spray painted.  Stenciling the floor and updating the light fixture gave the room a fancier look than I ever imagined it would have.  The rug, which is a hand-me-down from my grandmother, completes the new look.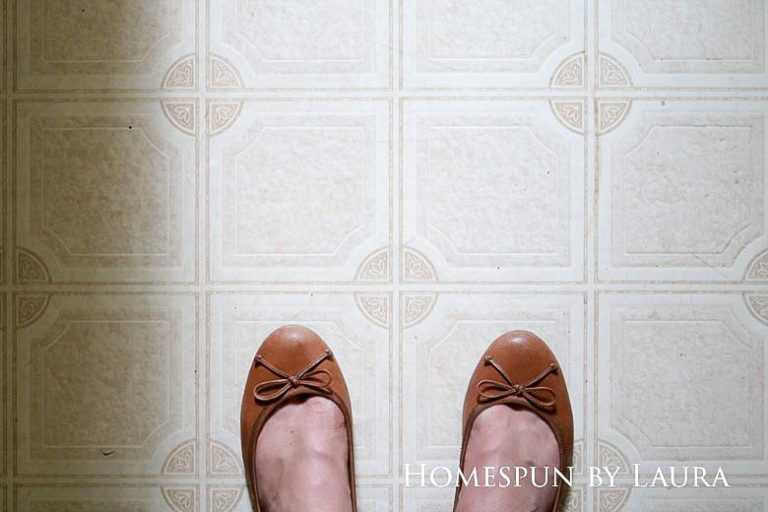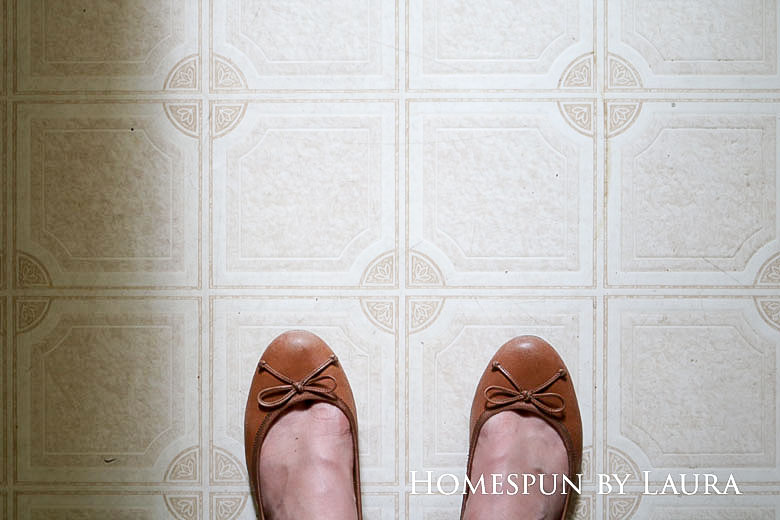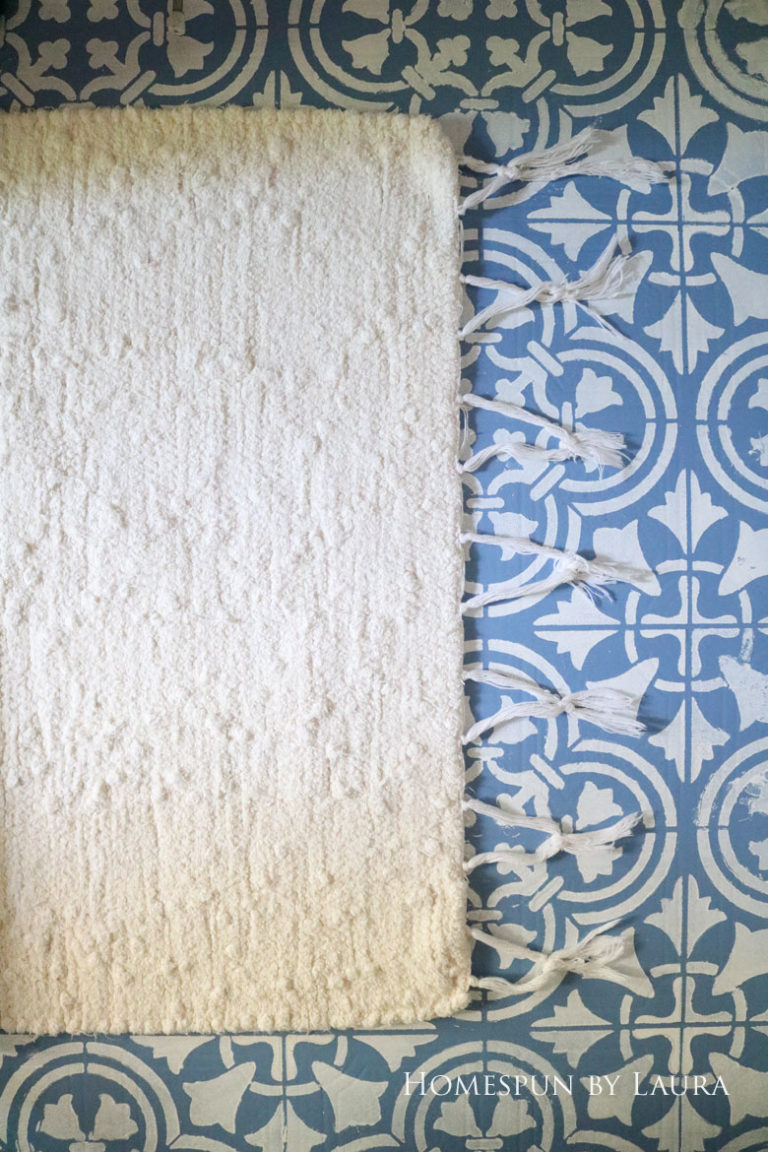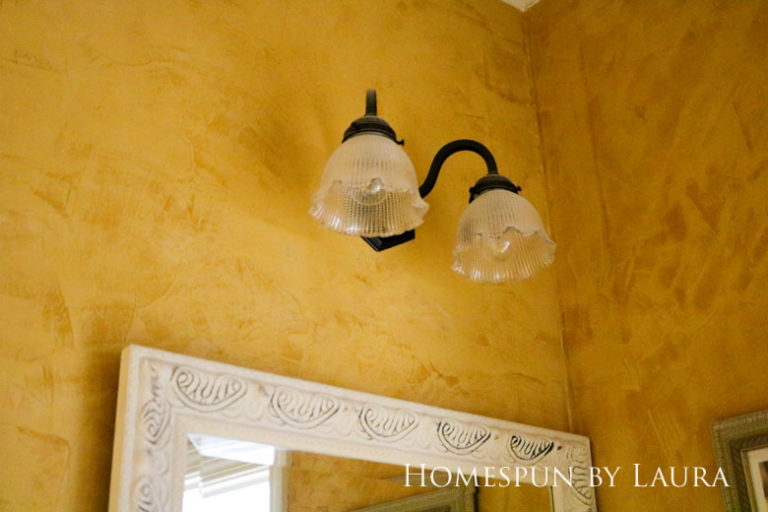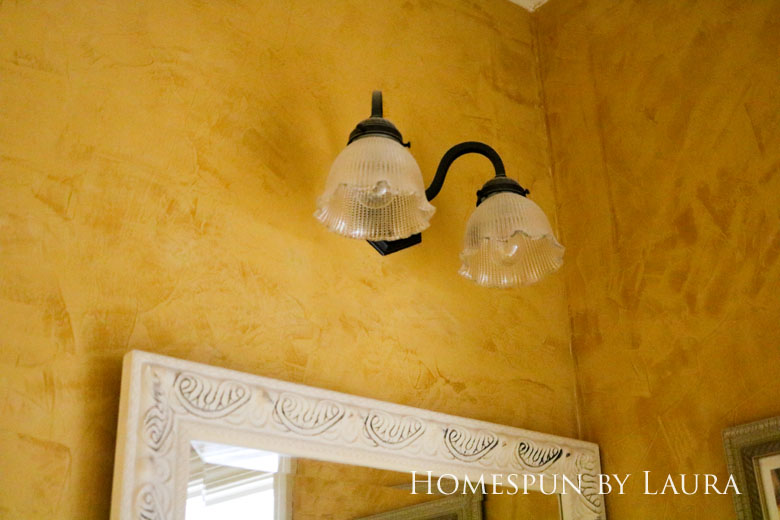 Powder room Makeover Week 5
In Week 5, I shared the DIY framed mirror I made from some lumber and an ugly old mirror.  Changing the mirror made another big difference in the look and feel of this room.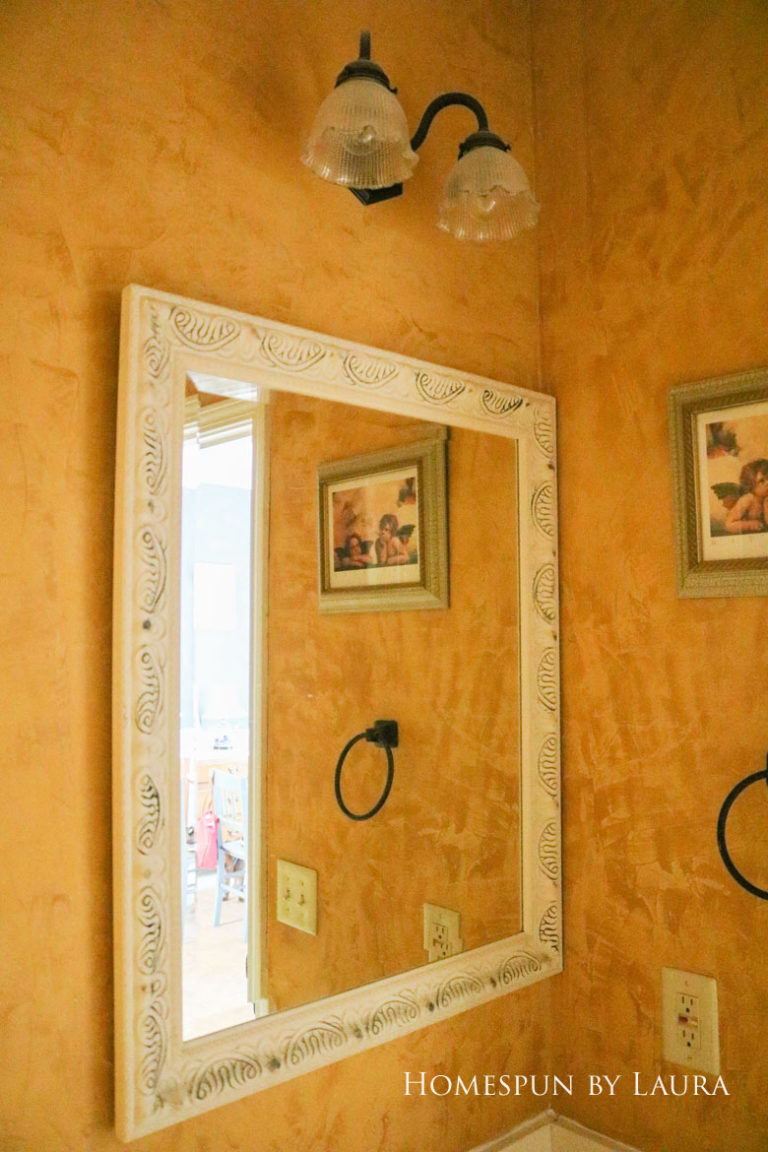 Powder room Makeover Week 6
Since the ORC got a bonus week this fall, I went into more detail on our pantry than I originally planned to.  Over the years, I've made small changes and additions to the shelving in this little afterthought of a closet off the powder room – which is why it's part of the powder room project.  Last week, I shared my tips for creating a system that works for you in your pantry, whether or not it's a pretty Pinterest pantry (which mine definitely is NOT).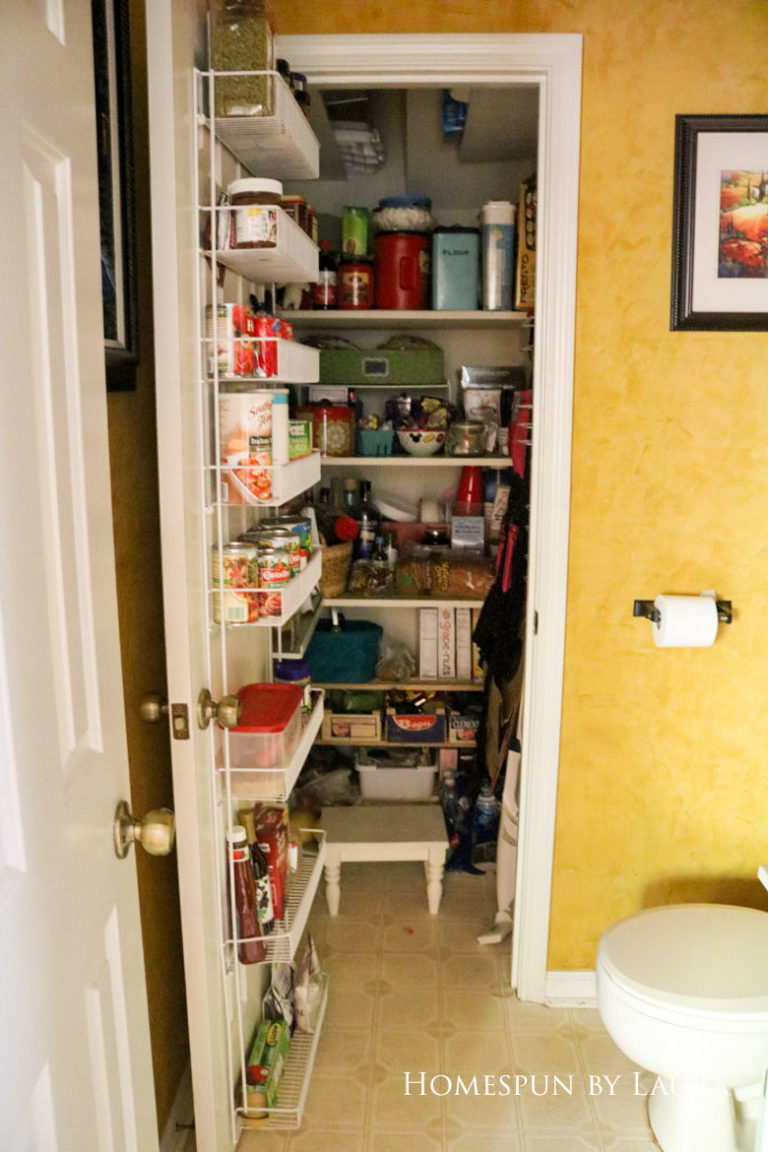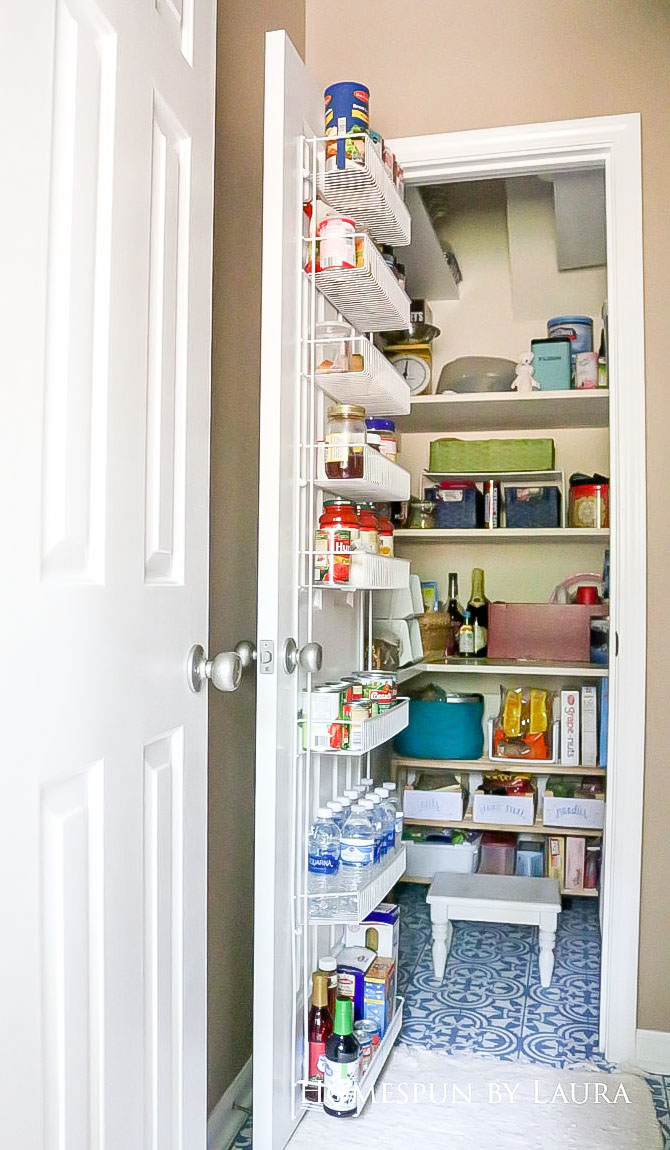 Powder room Makeover Week 7
Art + Decor
The last remaining changes to share with you in this space are art and decor.  I decided to keep it simple, partly since I had already maxed out my budget and partly because I think there's already enough going on.
Art
I had grand ideas of framing some enlargements of photos from recent travels, but when I had no more budget to buy things, I had to get creative.  I moved this watercolor from a weird spot in the kitchen, where it almost kind of blended in, and it stands out so much better in its new home.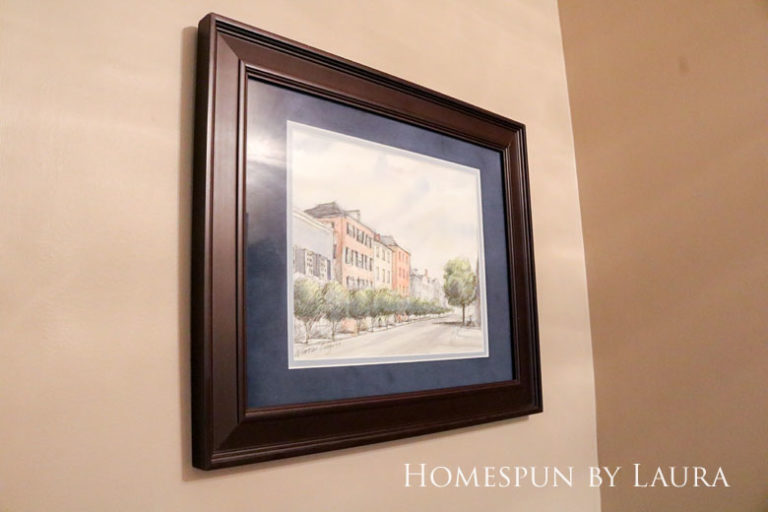 It's a watercolor of Rainbow Row in Charleston, but it's more than just a piece of art hanging on a wall.  It was a wedding gift from my cousin out of her father's collection.  My uncle, her father, was a wonderful artist and is the primary reason I became interested in watercolors.  I vividly remember visiting them in November when I was in the fourth grade.  I was fascinated by the little kit he would carry with him to sketch and paint when he was out and about.  When we got home, I immediately asked my parents for watercolor supplies for Christmas, and I was so excited to find them under the tree a month later!  I'm nowhere near as talented as he was – he skipped the pencil and did his sketches in pen! – but I do enjoy pulling out my paints when I can!
Decor
The vanity, though small, still looked like it was missing something.  I stole this little philodendron in an old mason jar from the den.  The green brings some life to the otherwise blue and off-white vanity.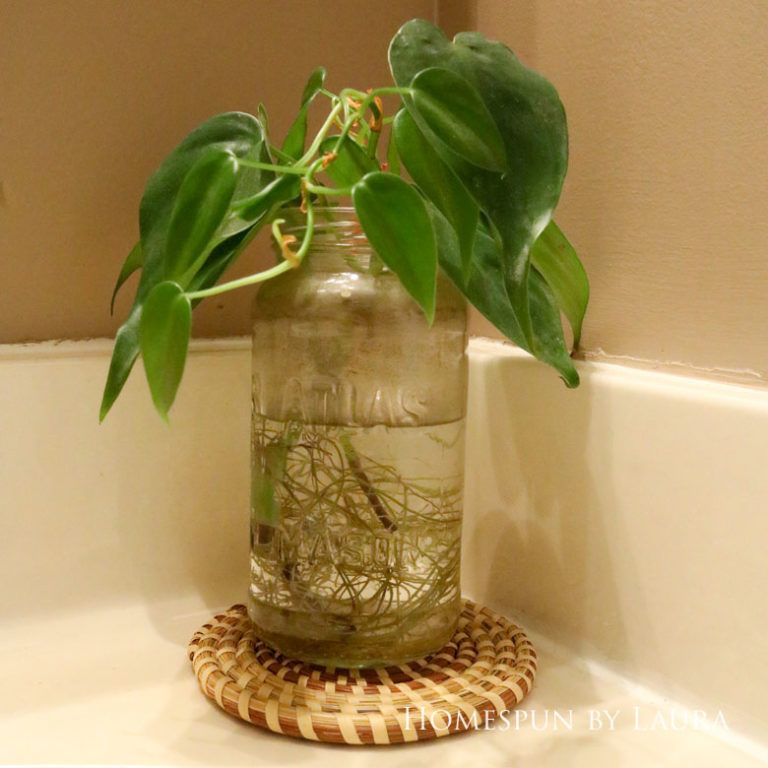 The small sweetgrass coaster on which it sits gives a surprising warmth to the room.  Since its origin is Charleston, it ties in with both the Charleston watercolor and the rug, which also came from Chucktown once upon a time!
The soap and lotion dispensers were a Target purchase earlier this year.  They serve their purpose well and look great doing it!
You'll have noticed the towels in other photos over the course of this One Room Challenge.  I found three colorful ones I liked a year or so ago on clearance at Target.  I only use them in this bathroom and  I love the pop of color they add.
putting it all together
I'll let the photos do the talking here!
To-Done List
The checklist is finally complete!  For the first time ever, I'm sharing a finished One Room Challenge project on reveal day!  It's a pretty exciting and rewarding feeling.
Remove wallpaper
Paint trim + door frames, doors, and vanity
Paint walls
Replace faucet (replaced in June; not part of the budget but it feels good to check it off the list:-))
Update light fixture with spray paint and new globes
Paint floor
Reframe mirror
Replace door hinges
Spray paint doorknobs + cabinet hinges and knobs + towel & toilet paper holders
Paint ceiling (to make the whole thing one color)
Organize the pantry (for at least the 4th time)
Simple art and decor
budget breakdown
In the end, I spent $75.11 on this powder room makeover, just a few cents over the budget I set at the beginning of the project.  I kept the cost down by using paint, supplies, and decor I already had.  You don't have to spend big bucks to make a big difference!
Remove wallpaper (Week 1) – $0
Paint vanity and hardware (Week 2) – $0
Paint ceiling, walls, doors, & trim; replace hinges (Week 3) – $0
Stencil linoleum floor; update light fixture (Week 4) – $62.81
DIY framed mirror (Week 5) – $12.31
Organize the pantry (Week 6) – $0
Art + Decor (Week 7) – $0
Thanks for stopping by, and make sure to check out the other amazing finished (and almost-finished!) rooms over at Calling it Home.  And, as always, a huge thanks to Linda for hosting this event!
Laura