in the spring One Room Challenge, I'm focusing on our sad, beige laundry room with the goal of transforming it into a fun, colorful space inspired by two famous TV kitchens.
the room
My view for the first three months of our daughter's life, eight times per day, every 2 to 2-1/2 hours was through a crooked door to a boring beige builder-grade laundry room.
getting started
For my birthday, I requested cabinets to replace the sad metal shelf that hung above our washer and dryer. Lucky for me, they were 10% off at Lowe's at the time, so the total for two new cabinets came in at about $150!
We hung them one Saturday in December during the baby's nap and amazingly didn't wake her.
So for the second three months of my daughter's life, slightly less frequently, my view was of a still boring, beige room.  But with better storage, it was more functional and showed signs of what it could become.
The good news is: we have cabinets! The bad news is: we hung them a little crooked. It really should have been a two-MAN job, not a one-man-and-three-months-postpartum-woman-who-lost-all-her-upper-body-strength job.
I'm confident that with a little wood putty, paint, and persistence (and time…) I'll be able to hide the crookedness, but for nearly 4 months now I've just been turning a blind eye to it.
the one room challenge
As if there wasn't enough going on in our lives right now, I decided to participate in the spring One Room Challenge to hopefully motivate myself to finish the laundry room within 6 months of starting it!
The One Room Challenge is a 6-week long project hosted by Calling it Home during which participants focus on one room in their house with the goal of creating a beautiful 'after' to enjoy, sharing their progress along the way.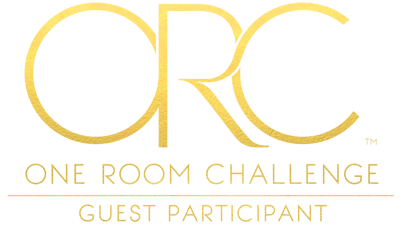 This means that if I can stay on track, I'll have a fun, colorful laundry room by mid-May!
the plan
My inspiration for the laundry room comes from two very different television kitchens.  The original plan was to create a room similar to Monica's kitchen in Friends.
Bright, bold colors I wouldn't necessarily use in other parts of our house (purple! bright turquoise!) would work great in this room, which lies between the master closet and upstairs loft.
Then I discovered the Great British Bake Off on Netflix, and I want to go live in that tent!  It's bright and beautiful and it looks like a dreamy place to hang out.
The two spaces have similar features: open shelving, copper, wood, and shades of blue and/or green, which will also appear in my laundry room.  The copper accents will likely be in the forms of cabinet knobs or shelf brackets.  The shelves are wood, which I plan to stain.
the to-do list
I have to acknowledge my limitations: as a part-time-work-at-home mom to a little baby who likes to keep me guessing as to whether or not she's going to nap, my 'free' time's a little stretched.  That said, the minimum of what I'd like to accomplish during the One Room Challenge is:
Install rod between cabinets for hanging clothes to dry
Install shelves above rod to connect cabinets and display things
Paint cabinets
Paint/stain shelves and rod
Add cabinet knobs – perhaps this is where the copper comes in!
Add a decorative backsplash of some kind, perhaps a faux white brick wallpaper, which I've seen at Target
Sand down/straighten poorly hung doors so that pretty rug fits under them
Hang iron/ironing board holder on wall behind door
Shop the still-boxed collection of frames, photos and art from our recent move for something to hang on the large, bare wall opposite the washer/dryer/cabinets
Shift washer, dryer, and mini fridge locations to maximize the space
Construct a shelf across the length of the wall above the washer, dryer, and fridge
If I'm able to accomplish all that and have time left over (doubtful!), my dream list would also include:
Painting the walls; however, much of our paint collection is unaccounted for after our recent move, and this will depend on locating said paint!
Constructing some sort of counter surface above mini fridge for storing laundry basket/folding clothes
Building a laundry drying rack similar to the one I made the last time I updated a laundry room for the One Room Challenge that we left behind in our old house.
Oh, and spend less than $100.
the budget
To accomplish my goal of spending less than $100 on top of the $150 we spent last year on the cabinets, I'll use paint from my stash and decorate with items we already own (rug, frames, art).  The bulk of the budget will go toward unfinished wood for shelves, a dowel for a clothes rod, and hardware with which to hang them.
While I haven't landed on a paint color for the cabinets, I envision something in the blue-green family.  I have a variety of sample colors from previous projects to choose from and might wind up mixing several of them up to create a unique color.  Hopefully, I'll find or create an amazing color without having to make a trip to the store.
I bought this fun, colorful rug last year when we lived in a townhouse downtown for several months after our house sold, before we found a new one.  It was the brownest place I've ever lived.  The kitchen was small and dark with only a tiny window.  I needed something fun and colorful to brighten that dark little kitchen, and the rug was perfect.  It hasn't found a home yet in our new house; it's lived rolled up in the corner behind the door in the laundry room.
Check back next week to see what got done and what didn't.  In the meantime, take a look at the projects everyone else is working on and follow along with my progress on Instagram!
Thanks for stopping by!
Look back at previous One Room Challenge projects here:
The Vintage Toy Nursery (still in progress…)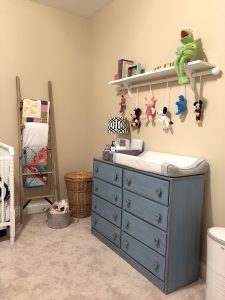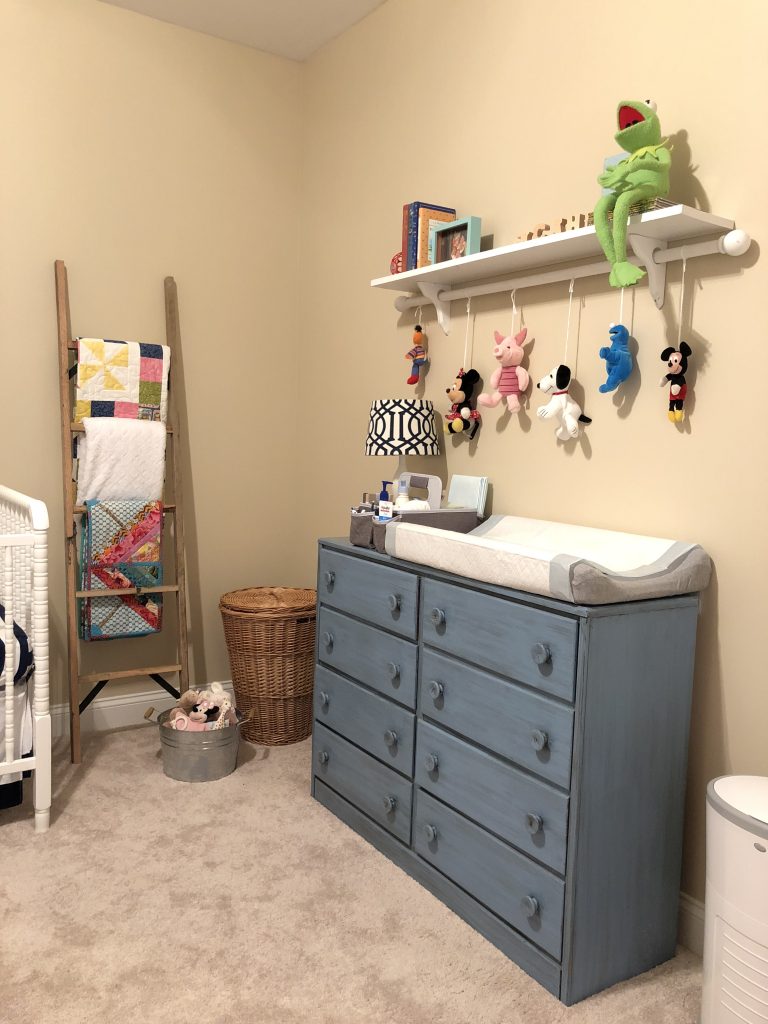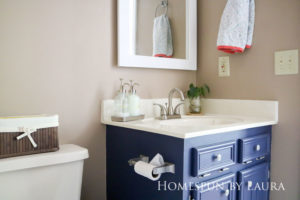 The Office / Sewing & Craft Room (the time I started it)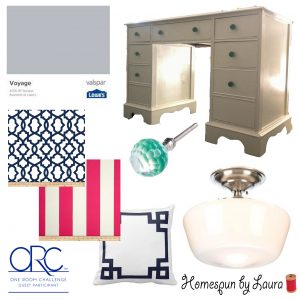 The Office / Sewing & Craft Room (the time I finished it!)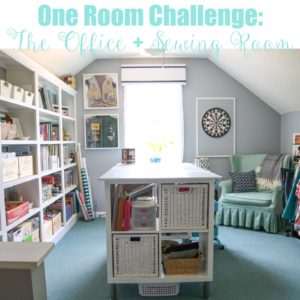 The Laundry Room (old house)